Home
Amfri Farms Limited which also trades as African Organic was registered in 1998 as a limited liability company specializing in the production, processing and export of fresh, dry and frozen organic fruits, vegetables, herbs and spices.
The company is a recipient of top organic food exporter awards and widely known as a leader in the sector. It is certified by IMO, Switzerland and Ecocert France according to EU regulation (EC) 834/2007, Demeter standards and the USDA NOP Final Rule, and Fair For Life. And British Retail Consortium Product (s) standards (Global and Food Safety Standard issue 7) and ISO 22000: 2005 food safety standards by TUV Austria. Main export markets include EU (all products), USA (vanilla and dried fruits) and Dubai/UAE (all products). The company has pioneered many innovations in the horticultural industry in Uganda including being the first company to commercially produce dried fruits and later the first company to commercially produce frozen fruit pulps for export.
The Company was the first to be certified in Uganda dealing in organic produce supplied by groups of out growers and the company farm (Kyampisi Farm). The company is owned by the Shivji family who are Ugandan-born Canadians who have been operating the Kyampisi Farm since the 1970's. The predecessor to Amfri Farms was Sun trade and Consulting Int (U) Ltd that started in 1990 with 25 individual out-growers and has grown to more than 343 farmers over the years.
Fresh products; Arabica and Robusta coffee, organic pineapples (smooth cayenne and Victoria), apple bananas, plantains, ginger, papaya, mangoes, jackfruit, avocado, and passion fruits as well as chilies, bell peppers, herbs, gooseberries, sweet potatoes, beans and others.
Dried products; dried pineapples, apple bananas, mangoes, paw paws, jackfruit, gooseberries and vanilla, dried herbs like rosemary, lemongrass, and spices like chilies, vanilla and ginger. Dried cereals and grains like Chia. Quinoa, Sesame, Millet.
The company is also contracted to provide substantial quantities of special natural  ingredients such as butterfly peas (Clitoria ternatea), Annato (Bixa orellana) , safflower (carritos): purple fleshed sweet potato and is experimenting with varieties of black and orange carrots, red radish, Red Beet and other  natural products.
Frozen products; frozen passion fruit pulp, frozen apple banana puree, frozen mango pulp and dices, frozen papaya dices, frozen gooseberry pulp and frozen pineapple dices. The company is also experimenting with frozen sweet potato, carrots, pumpkin, red radish and red beet root.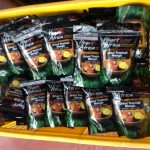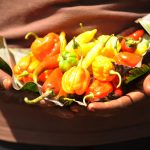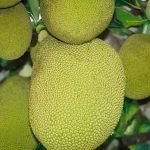 The company has 9 owned farms located in the different districts which act as demonstration and admistration grounds. These are located in Kyampisi (Nakaseke) Masaka (Kinoni and Kayugi), Mabira, Arua, Ssemuto, Mubende and Mityana,Zombo.
Besides the company owned farms employing up to 400 people, the company also currently works with 340 organic certified out-growers in the districts of Luweero, Kamuli, Kayunga, Mpigi, Rakai, Mukono, Wakiso, Lyantonde, Masaka, Budaka, Mubende, Arua, Zombo, Koboko, Pakwach, Pader districts which contribute up to 90% of its total production.
Another 100Ha company farm located in Kinoni, southwest of Masaka and 200ha in Kayugi with 14 employees – Masaka are organic certified and with a staff base of 100 employees.
The company also acquired 200Ha Mabira farm with 35 employees, 20ha in Mubende with 10 employees, 58ha in Arua with 3 employees, 6 ha in Zombo with 8 Employees and another 20Ha farm in Mityana.
Main export destinations include:
Germany ( dried spices, chia and grains / cereals, vanilla and pulps)
Netherlands ( fresh fruits and frozen pulps)
USA ( Vanilla and Annato)
Denmark (fresh, dried and frozen products)
Holland (fresh, dried and frozen products)
Dubai/UAE, Bahrain (fresh and dried products)
Canada (dried products and Dry Lemon Bam, Jackfruit and Vanilla)
Finland (Chia)
Peru (Anato)
Italy (Butterfly Peas)
---