Certification & Membership
CERTIFICATES 
ECOCERT – The Certification is by Ecocert  to process and market organic products in compliance with Regulation (EC) No.834/2007/.
SA – Certificat NOP_V5 WEB – 2018
SA – Certificat EOS V4 Web – 2018
USDA-NOP – Certified under the National US Organic Programme (NOP), USDA, AMS7CFR Part 205 National Organic Program. Amfri is probably the first company to receive this.
FAIR TRADE – We practice policy of Fair Trade and meet all requirements. Some customers are certified others are in the process.
FFL_Certificate_AFRICAN ORGANIC-AMFRI FARMS LTD_20180206
DEMETER – Based on annual inspections against the International Demeter Standards , this certificate confirms enterprise for different products.
BRC – Global standard for food safety For the scope of sorting , washing, grading, drying, slicing and packing of fresh and dried and frozen fruits stored. and packing of dry herbs and seeds in polypropylene bags and hard boxes
REC27_BRC-FD-022-NE_Certificate_2018_Final
---
AWARDS & MEMBERSHIP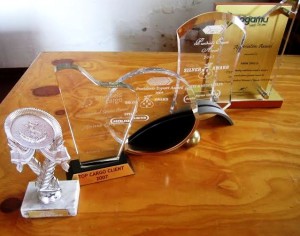 | | | |
| --- | --- | --- |
| YEAR | AWARD & CERTIFICATE |  AWARDING BODY |
| | | |
| 1998 | Best exporter fruits and vegetables | Uganda Export Promotons Board (UEPB) |
| 2001-2002 | Runner up Fresh Produce Exporter | British Airways |
| 2002 | Presidents export award Silver | Uganda Export Promotons Board (UEPB) |
| | Fruits and Vegetables | |
| 2003 | Presidents export award among top 3 exporters | Uganda Export Promotons Board (UEPB) |
| | Fruits and Vegetables | |
| 2007 | Top cargo client | Brussels airlines |
| 2007 | Presidents export award Silver | Uganda Export Promotons Board (UEPB) |
| | Fruits and Vegetables | |
| 2008 | Organic Products Exporter | Brussels airlines |
| 2009 | Presidents export award Bronze | Uganda Export Promotons Board (UEPB) |
| | Herbs and Spices | |
| 2009 | Largest Organic Exporter | Brussels airlines |
| | Fruits and Vegetables | |
| 2010 | Longest Organic Export Company with the biggest range | National Organic movement of Uganda (NOGAMU) |
| | of organic products | |
| | | |
| 2010 | Appreciation Award presented to Amin Shivji | National Organic movement of Uganda (NOGAMU) |
| | for Outstanding contribution towards a decade of Excellence | |
| | and a future of promise towards NOGAMU | |
| 2011 | Best Organic Exporter | Brussels Airlines |
---